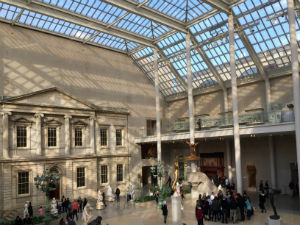 Back in January, William Powhida and I recorded an episode of Explain Me on the Metropolitan Museum of Art's new admission policy. Earlier that month, the museum known for housing some of the world's greatest treasures announced its admission price would no longer remain "pay-as-you-wish". As of March 1st, their suggested admission, $25 will become mandatory for anyone living outside of New York State. Children under 12 get in for free.
Given that there's less than two weeks until this policy change goes into affect, we thought it might be a good time to release our discussion and revisit the debate. Because what came out of the debate, was not a picture of an institution starving for more funds, but wealthy museum with a board and President ideologically opposed to the free admission policy. Learning this changed my position, which was one initially in support of a change the museum described as an absolute necessity, to boycotting the museum for the month of March. While the admission increase doesn't affect my cost of admission, it affects that of my family and friends from out of town. It is also entirely out of step with generosity of creative spirit that brought me to this city in the first place.
Over the course of the podcast, William and I discuss a large number of articles and the conclusions drawn by the authors. We go through the points rather quickly, so for those who want them at your finger tips, I've included them below.
Data People
These are thoughts by people we describe as "data driven".
Grey Matter's Tim Schneider. Cites studies that claim cost is a secondary factor to why people visit museums. People cite lack of time and lack of transportation as major factors. Adds the caveat that structural discrimination may account for some of these factors.
Colleen Dilen Schneider. The original blogger who sourced studies that claim cost is a secondary factor to why people visit museums. Expect a treasure trove of studies, over use of bolding and zero caveating. Read at your own risk.
Blogs
Hrag Vartanian interviews Met president Daniel Weiss for Hyperallergic. There's a lot in here, but we discuss the following points:
Vartanian notes the museum's well-known $40 million deficit in the intro.
Weiss says asking David Koch to pay for the Met's admissions would be inappropriate morally because the wealthy already support 75% of their budget and their current admissions is "failing".
Claims a dramatic increase in visitors.
Says there has been 71 percent decline in what visitors pay.
Says the museum has close to a billion in endowments reserved for operations.
Felix Salmon at Cause and Effect. Looks at the Met's annual reports and finds that Weiss overstates the Met's visitor numbers (which increased by 11.5 % thanks to the Met Breuer opening), and misleads the public about admissions revenue, which has actually increased by 13 %. Concludes that admissions isn't the reason the museum has the deficit. Also, notes that the Met's endowment has risen $170 million a year through investments, of which, over $100 million a year can be used for anything they want. Concludes that the Met won't suffer by making $10 million a year less because they are maintaining their "pay-as-you-wish" policy.
Petitions
The Met Should Remain Free For All. 
Main Stream Media
Jillian Steinhauer for CNN The Met Needs to Live Up To Its History and Its Public
Robin Pogrebin for The New York Times reports that Weiss cites the city's plans to reduce the Met's funding as one rationale for the change.
Holland Cotter at New York Times. New York residents would have to prove their residency by "carding" procedures, which he doesn't like because "it potentially discriminates against  a population of residents who either don't have legal identification or are reluctant to show the identification they have."
Roberta Smith at The New York Times. Rebukes the position that because other museums charge they should too, saying  "Actually it should be just the opposite. Pay as you wish is a principle that should be upheld and defended, a point of great pride. The city should be equally proud of it. No one else has this, although they should. It indicates a kind of attitude, like having the Statue of Liberty in our harbor. It is, symbolically speaking, a beacon."